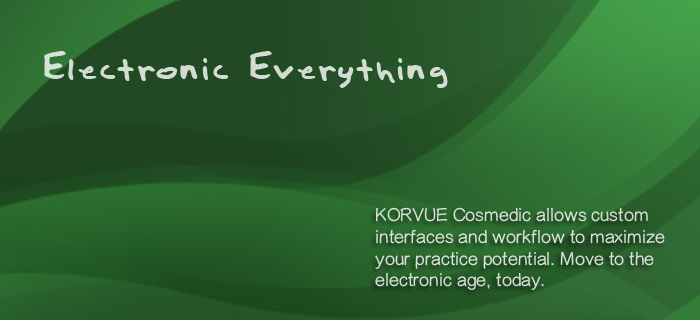 New era in client-patient management
Medical and hybrid medical businesses are facing lower reimbursements and more competition than ever. Enter KORVUE Cosmedic. KORVUE's combination of best-in-class features provides the optimum blend of retail service functionality (scheduling, inventory, marketing, promotions etc.) with total procedure and client file management - including available Hi-Res Advanced Imaging and Electronic Medical Billing.
Here's some of the benefits of using KORVUE Cosmedic. To view the pricing options for this and other single location editions of KORVUE, please click here.
Serialized inventory for such items as Implants
Fractional product utilization support for services that use partial inventory, such as Botox
Medical and Electronic Medical Billing takes the pain out of Medical Reimbursement
Advanced Hi-Res Imaging allows capture of multiple views and annotation of images
Create Electronic Forms for Consent, Consultations and Post Procedure documentation. And when you complete the form, have your client sign it electronically
Document care notes for your patients. These in combination with Electronic Forms will have you paperless and help keep you legally safe in no time
HIPAA Forms can be printed and tracked for your Clients when they arrive
KORVUE can even electronically archive your existing documents
Built in CPT and ICD-10 codes
Generate surveys to help you monitor Quality of Service
Let us work with you to interface and integrate in the HL7, GS1 or ASTM Lab data from your Lab directly into KORVUE
Book patient-clients with blinding speed while retaining an appointment book look and feel


Book with confidence and let KORVUE find the best combination of staff, rooms and equipment to get the job done
Watch scheduling mistakes become a thing of the past

Automatically remind clients of their appointments through Email and optional SMS Text messaging, cutting down on No-Shows and Cancellations while minimizing valuable phone time
Vary the Pricing and Duration of Services, allowing you to add new staff with less experience that might take longer to do a service. Designate different pricing for your senior staff and create grades such as Junior, Senior and Master. What's more, now you can automatically spend extra quality time with your VIP Clients while maintaining efficiency for your Walk-Ins
Perform advanced targeted marketing with the KORVUE Promotion Engine. Identify key client segments based on purchase history, visit patterns or interests. Have KORVUE send mass email campaigns or create large print jobs all personalized to the individual client
Create custom promotions based on rules and dates you define. Then have them run automatically. Create your holiday promotions months in advance and have confidence they will run on time
Super fast checkout process


Never keeping a client waiting
Built-in credit card processing
Operates cash drawers, receipt printers and barcode scanners

Keeps formulas, purchase histories, birthdays, significant others, and photos at your fingertips
Improve your client experience with Packages, Loyalty Points and Electronic or Physical Gift Cards
Create Membership Programs and have KORVUE automatically bill client credit cards
Create Professional Letters and Emails, personalized to each client
Saves you valuable time with Product Inventory Management, tons of Reports, and powerful Payroll
Built in Security. Give the exact authority and access to the right people. You can rest with confidence
Built in QuickBooks interface will save you countless hours of time and dramatically reduce errors when tracking your financial performance
Below are the popular features of KORVUE Cosmedic. To view the expanded feature matrix, click here.
Point-of-Sale
Credit Card Processing (included)
Scheduling
Client Management
eForms
Procedure Management
Optional Medical Billing
Optional Advanced Imaging
Promotion and Marketing Management
Inventory Management
Payroll and Commission Calculation
Advanced Security
QuickBooks Integration
Windows PC. You can run KORVUE on virtually any modern Windows-based computer. You can also run it via remote desktop if we host it.
Mac. You can run KORVUE on a modern Mac using Boot Camp or Parallels. You can also run it via remote desktop if we host it.
Cloud. We can host KORVUE for you and you can access it from Window PCs, Macs, and tablets running remote desktop.
There's a bunch of add-ons to KORVUE, below are some of our popular and you can see the rest if you click here.
KORVUE Advanced Imaging

. Hi-Res imaging system with markup and annotation layer support. Take multiple angles per visit and show progression and side-by-side comparison.

KORVUE Medical Billing

. Generate, track and manage your medical billings manually or electronically.
KORVUE XL. This is the Online extension to KORVUE, giving you Online Booking, Online Store, and even Online Gift Cards and a Client Portal.
KORVUE HR. This is the Human Resources extension to KORVUE, giving you Online Job Applications, Online Portals for Applicants, Employees and Store Managers, and even an automated Hiring Process.

KRG

. This automated Report Generator can runs reports for you, create PDFs and email them to the desired recipients.
PrimeServ eBlast. This awesome white-listed email marketing and survey system makes it simple to create impressive emails and surveys.