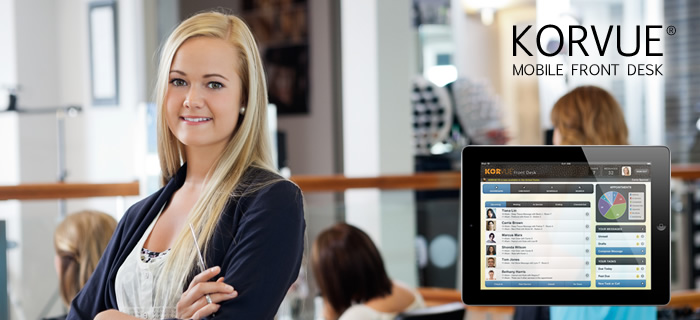 The mobile front desk, need we say more?
In case you didn't figure it out, KORVUE FD is short for KORVUE Front Desk. That's important to understand, because this is a full-feature mobile application that is not limited to a single operating system. In fact, it runs on iPads as well as other tablets, such as those powered by Android, Windows and Blackberry.
Imagine freely roaming your business with an iPad that is geared to update client details, book appointments, modify appointments, add products to wish lists or to appointments for the day, and perform checkouts with real-time credit card processing and signature capture. Sound great? Well there's so much more, but here is an overview of some key screens and features:
The Dashboard. KORVUE FD is based around an incredibly intuitive dashboard. This screen provides a quick view of upcoming appointments while letting you toggle between appointments in other statuses, such as Waiting or In-Service. You can even change an appointment's status with one touch...it's really that simple. Easily update appointment details, add products, handle tips, and much more, right from the dashboard.




KORVUE FD's dashboard gives you an overview of appointment performance, while allowing quick access to appointments, checkouts, client info, product and service details...and that's just the start. The features that make KORVUE such a powerful business tool are delivered simply and elegantly to the palm of your hand. With real time stats, the ability to view and create calls, tasks and messages, the dashboard gives you all you need.

The Checkout. Checkouts can now be performed right from your tablet, even at an event that is nowhere near your store. With the proper attachments, KORVUE FD can scan barcodes, read credit cards, accept PIN, and securely process payments while effortlessly capturing your client's signature with a stylus or the pad of their finger.




Use the built-in barcode scanner to quickly and accurately add products to the checkout. Boost sales with automated product recommendation and interest lists. You can also sell and redeem gift cards on the fly.




Receipt options are plentiful. Print wirelessly or save some trees by sending it via text message or email. Gift receipts are also supported, allowing you to generate a full receipt or one that only includes selected items. KORVUE FD gives you real capability, with the ultimate level of simplicity and mobility.
KORVUE FD is a must have tool for your business. Some of its popular features and functions are:
APPOINTMENTS

Interactive Charts
Quick Preview List
Text and Email Confirmations
View History
Modify Current Appointments
Add Products to Appointments
Schedule New Appointments
CHECK IN/OUT

Easily Update Client Status
Add Packages, Products and Services
Sell and Redeem Gift Cards
Handle Tips
Swipe and Process Credit and Debit Cards
Gift Receipts
Text, Email and Print Receipts
CLIENT TOOLS

Create and View Profile
Capture Photos
Create and View Notes
View History
Record Service Satisfaction Rating
Update Information and Preferences
AT A GLANCE

New Task Alerts
New Message Alerts
RSS Feed
Create and View Tasks & Calls
Compose and View Messages
Create Shopping Carts for Later Purchase
KORVUE FD is a super powerful and easy to use mobile application designed to roam your store wirelessly (with you holding it, of course). To learn how you can benefit, please speak with a specialist today.