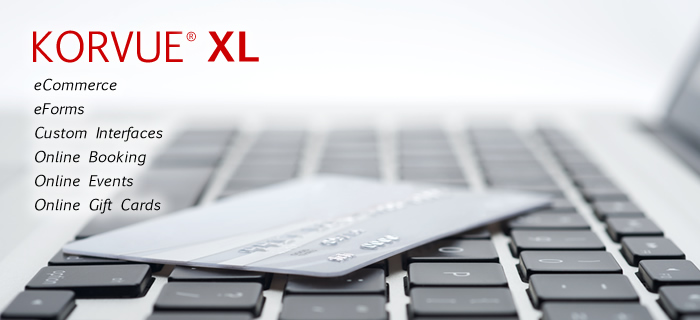 XL puts major distance between us and everyone else.
Have you researched the online offerings of our competitors? We recommend you do, just so you can see how much more capable KORVUE XL is. This is the real deal, not just marketing fluff.
The number of clients demanding to interact with businesses online is increasing at an alarming rate, especially on mobile devices. Maximizing your online presence is crucial to staying relevant. You can move in that direction today by integrating the world's most powerful online suite for your KORVUE system.
KORVUE XL gives you extensive capabilities. You can use them all or just some of them, including:
Online Store. This is a fully custom eCommerce system that interacts directly with your inventory (and warehouse, if used). It simply doesn't get more powerful than this. Not only can it look and work any way that you desire, the advanced functions and logic power more sales. Promotion, gift card, and loyalty system support are all built-in. Order fulfillment, credit card processing, picking, packing, shipping, and analytics. It is all there and much more.

Online Gift Cards. Sounds redundant, but this is the most powerful online gift card system of its kind. Traditional or electronic gift cards can be purchased instantly. Electronic gift cards can be posted to Facebook, emailed, downloaded, printed, or even stored in electronic wallets like Apple's Passbook. Our gift card system is integrated, so as soon as one is bought it can be used online or at any of your locations. You actually even have control over where it can be used. Bonuses and promotions are also part of this system, such as issuing a bonus $5 gift card with the purchase of a $50 gift card. You will also easily know who made the purchase and who's been using it. We could go on and on.

Online Booking. Yes, again the most powerful available. No matter how outrageous your KORVUE appointment booking configuration is, our advanced online booking engine honors it all. You can allow clients to book even the most complex appointments with ease. These appointments book in real-time, there is no syncing, and when your client books an appointment they instantly appear on your schedule. If your client needs assistance, they can request it and you will be notified. They have access to their history and can easily repeat appointments, as well as see recommendations for services and products. Speaking of products, clients can reserve products with their appointment so you can forecast your inventory and pre-bag their purchase.

Online Event Registration. Create events of all shapes and sizes, with the rules and requirements of your choice. Clients can register themselves, related parties and even guests, if you allow it. If you charge a fee, the client can pay it online during their registration. Use the customer service portal to register clients for them, and manage the attendance. Event vouchers and confirmations can be sent by email and SMS (text message). Fully integrates with social media.

Electronic Forms. Custom electronic forms for your staff and/or clients. Have a service that needs a consent form? KORVUE will automatically notify the client upon booking and send them a link to the electronic form. They can even sign it electronically with Verasoft's nDORSE technology.

Custom Interfaces. If you need a special interface for 3rd party company access, remote employees, or even departments you are looking to streamline, you can have it with KORVUE XL. An interface can be designed with specific fields, access and purpose. Extend the power of your KORVUE system easily with this feature.

Client Portal. Add online account management to your website. Allow your clients to update their information, make payments, review history and interact with all the other systems, such as online booking.
There are so many various applications and uses for KORVUE XL. Whether you want to use one or more of its capabilities, be sure to speak with a specialist to understand how this incredible system can benefit you.